Velocity for management
Velocity helps ensure that all projects will flow quickly and smoothly. The result is better profitability and work environment. Project status and resource status in all portfolios is transparent, accurate and up to date 24/7. New methods and automation make it possible.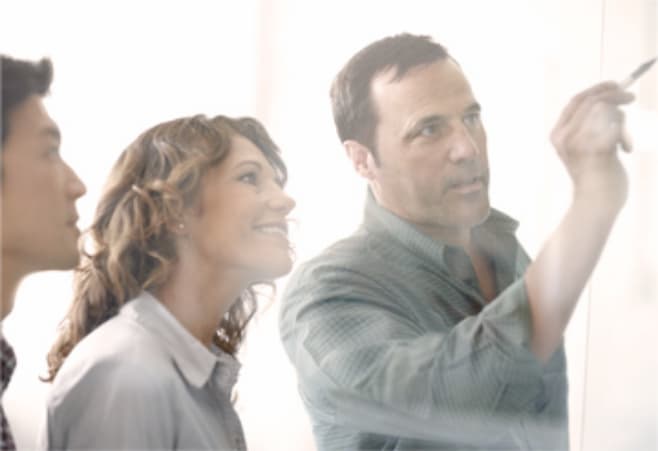 Velocity for project managers
The project manager's work is made easier by knowing the status of the project without having to hunt for information or spend time on reporting. A common vision and priorities help to improve cooperation and focus. The job is also made more enjoyable by timely access to resources.
Velocity for resource managers
Velocity matches the resource needs of the projects with the capacity of the line organization. Resource planning becomes easier and more fun. It reduces fire fighting, stress and provides a more attractive work environment. You always have an up-to-date view of work in progress and what's coming in.
Fast, agile and dependable
Sometimes you get the feeling that you get stuck, that it is slow and difficult to get projects to speed up and finish. With a small but powerful change in how and when you start projects you lay the foundation for becoming fast and agile. With Velocity you then increase the projects speed and respond faster to changes and events – and deliver on time. Contact us if you want to learn more!
Create room for what is important
Sometimes what is urgent takes over from what is important. Many are challenged by important questions like, automatization, digitalization, AI and you name it. Still it is difficult to find the necessary time, capacity and budget to handle these issues. With Velocity it is possible to free up capacity and free up time and attention to make room for this and to make room for creativity. Contact us if you want to learn more!
Keep it simple!
Velocity does what your current systems doesn't do. Velocity is an add on and will work with your current processes and systems. Velocity is cloud based and simple to use so you are up and running right away. What is truly unique about Velocity is the immediate sense of overview and control over all the projects and the resources. Many systems collect a lot of data and report history, Velocity looks forward and focuses on making the projects faster. We call this Enterprise Project Throughput Management. Contact us if you want to learn more!
Collaborate when managing projects
In a multi-project environment different roles and different responsibilities are forced together, which often leads to friction and opposition. With Velocity a transparent and effective means for collaboration is created. Velocity will help set objective priorities that are agreeable to all and will simplify coordination across the organization. Companies may even invite suppliers to participate in the effective project collaboration.
CCPM by Dr. Eli Goldratt inside…
CCPM by Eli Goldratt is one of the underlying methods that Velocity is based on. In short CCPM is one of the smartest inventions in the field of project management. With Velocity you get automatic access to the power of CCPM so you can concentrate on your mission and responsibilities while gaining the benefits of CCPM.
Digitalization
The force of digitalization is sweeping across all types of business and enabling completely new opportunities. With Velocity you get a real time digital twin to your projects and resources. In Velocity you can see and understand conditions and relationships. This helps you mange in a way that was impossible before. And it is easier to get started than you think :-). Contact us if you want to learn more.
"Velocity helps us deliver our projects exactly on time to our customers. It has now become the standard way to manage projects and resources in the company"


"I always have a current overview of project- and resource status with Velocity. We find bottle-necks and do "what-if's" to optimize the throughput of projects."
"Velocity is our way of handling projects and resources. It helps our organization to collaborate, minimize lead-times and keep our commitments."